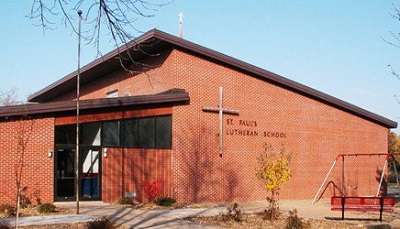 Why Choose St. Paul's Lutheran School?
St. Paul's school is uniquely positioned as the only 3K-8 school in Dunn County. We are Christ-centered, offer a challenging curriculum to create tomorrow's leaders, and help all students find their higher calling to love and serve God and their neighbor.
Lutherans have established schools in the United States since 1640. Martin Luther established this foundation of instructing children in church-based school in 1517. His goal was the same as ours over 500 years after he began the first Lutheran school: to prepare children with God's Word across the curriculum in the arts, sciences, mathematics, humanities and physical education to be useful and faithful Christian servants in the world, looking for the life to come in Heaven with Jesus.
St. Paul's established a Lutheran school in Menomonie at least as early as 1885 and it has been recognized in the state archives as a model Lutheran school since the 1920's. Much has changed since those days but our focus on a Biblically sound Christian worldview at the center of a classical education model has produced many leaders of our community and beyond for generations. We offer a curriculum which meets or exceeds all state and national standards. We have 1 to 1 technology in the classroom and a low student to teacher ratio, which is research proven to greatly improve student achievement. Our school is not limited to members of our church, Jesus tells his disciples in the Bible to let the children come to him, and so we follow his direction fully and freely.
Our students go from St. Paul's to area public and private high schools and perform very well. Many of our students begin high school in advanced class placement thanks to our great teachers.
What makes Lutheran Schools unique?
St. Paul's Lutheran Church & School is part of the Wisconsin Evangelical Lutheran Synod (WELS).
Our congregations—either individually or as federations—operate one of the largest Lutheran school systems in the country with 368 early childhood ministries; 282 Lutheran elementary schools ; 27 area Lutheran high schools; 2 Prep high schools; and Wisconsin Lutheran College, Milwaukee, Wis. (Commission on Lutheran Schools. "Wels Numbers." WELS, 2022, https://wels.net/about-wels/history/numbers/.)
For more information, click here: Foundational Principles of WELS Schools